1 picture
"Although the beginning of autumn has passed, the Sun Uncle still loves to play!! Every day I go outdoors, and I feel like I am like Xuebao in the snow and snow.
Ingredients
Cold melon
3
Oyster saga
Grab
Xishi bone
500G
Duck kidney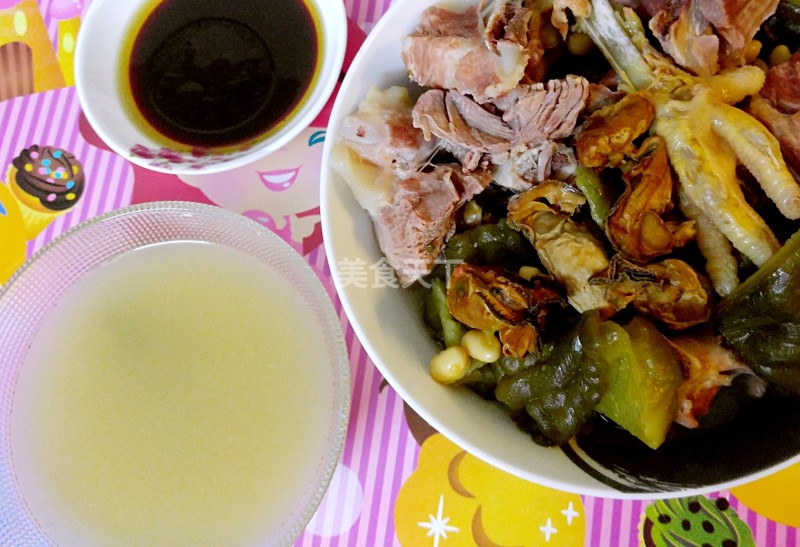 2
soy
Handle two
Jujube
Cock
5
ginger
a small piece
Salty flavor
Pot
Take a few hours
Common difficulty
Step of the practice of cold melon oyster beakers Xishi bone
1
Shi Shi bone, chicken feet, and duck kidney water first (that is, boil in water for 3-5 minutes after the water is boiled, remove blood and impurities) and wash it. Cut the sac in the cold melon and cut it on a large piece. Soak the soy water for an hour, wash and drain it for later use. Soak the oysters for 15 minutes, wash and drain it for later use.
2
Ginger was flat with a knife and boiled in 4 liters of cold water. Put the bones, oyster stains, chicken feet, duck kidney, soybeans, dates for half an hour. After half an hour, put the cold melon and cook together for an hour and a half. In the last ten minutes, put an appropriate amount of salt, roll over the heat for ten minutes, and turn off the heat.
3
Ritami 😂😂😂 😂😂😂 😂😂😂
Tips
Cantonese people love soup and drink soup. It happened that I was Cantonese, yes, it 's a coincidence … haha, this is one of the soups I drink since I was a child. Let' s share it.
Because of losing weight, I won't eat dinner, just drink a soup to eat a slag. This soup-sweetness in the sweetness and bitterness, the salty and delicious flavor of the sea goods is so fragrant. The weight of my soup is generally 3-4 people, and give everyone a reference.
The soy sauce of the soup residue, I use steamed fish soy sauce and a little sesame oil.
Use kitchen utensils: Calcule pot
like
collect
Add menu
WeChat
QQ friend
QQ space
Sina Weibo
3