Following "Xiaoyao Town Hu Spicy Soup"
After "Tongguan Meat Cycus"
"Green Pepper" is also the defendant …
Related news rushed to today's Weibo hot search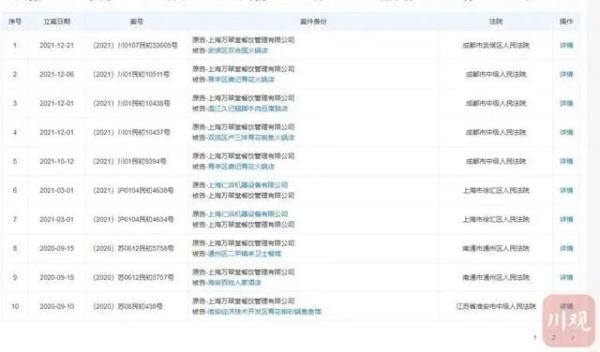 The "Green Pepper Fish" shop twice becomes the defendant twice
The owner is bad: Is it also infringed with blue and white pepperfish?
Today, the "Green Pepper Fish" store located in Wanshou Si Road, Qingyang District, Chengdu has closed the business.
The owner Ms. Tang said that she had received a subpoena from Chengdu Intermediate Court twice. The court's subpoena shows that Shanghai Wancuitang Catering Management Co., Ltd. sued Ms. Tang's stores to infringe her trademark rights and demanded that they would stop infringing on the special rights of the plaintiff's "green pepper" to register the trademark right, and demolished the shop door with the plaintiff trademark , And compensate the loss and reasonable expenditure 50,000 yuan.
Ms. Tang feels incredible. Sichuan is a large production province of green pepper. The use of green peppercorns is very common. How can she get a name for the shop?
Ms. Tang, who received the subpoena for the first time, felt very scared, so she quickly removed the word "green" on the door signboard.
On November 17, Ms. Tang went to the court to respond, and was informed by the court that the plaintiff had withdrawn. However, on December 6, Ms. Tang learned again that the other company sued herself again, and the court has already filed a case. This makes Ms. Tang feel bad. "After receiving the subpoena, I couldn't sleep when I was sleeping, I was anxious, I don't know what to do."
What makes her puzzled is why the "blue pepper" three words can register a trademark? She believes that green pepper is a universal name and is a specialty in Sichuan -Chongqing. If "green pepper" can be registered, and so on, will the "back pot meat" and "fruit shop" be used in the future?
Ms. Tang said that because the epidemic affected business was not good, she had closed the store after discussing with her family.
Many shop owners receive a "negotiation" call
There are similar encounters, Zhu Paixuan, citizen of Guang'an, Sichuan. In 2011, he opened a restaurant called "Yuxuan Qingzhong Fish Village" in Liujiaxiang in the city.
However, he never expected that at the end of September 2021, because his store recruited the word "green pepper", it was reported to the Guang'an Intermediate Court by Shanghai Wancuitang Catering Management Co., Ltd., which was two years later than he opened the store.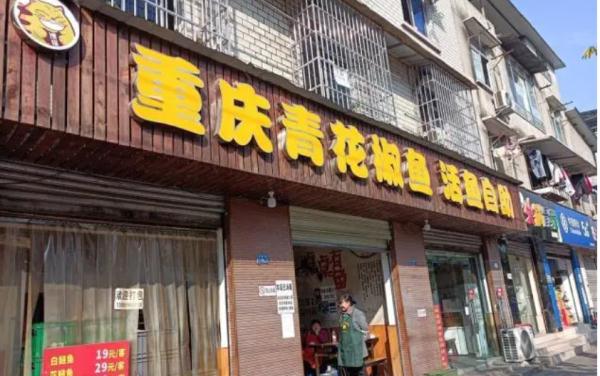 "It is later than me, but I am embarrassed to sue me!" Mr. Zhu said: We Sichuan people have eaten green pepper, selling green pepper for hundreds of years, and thousands of years, but because the store has three words "blue pepper" The defendant went to court, so there was any reason.
But the ridiculous reality is that as of now, dozens of restaurants in Sichuan have been named: Shanghai Wancuitang Catering Management Co., Ltd. for infringement because of the use of "blue pepper". Mr. Wu, the owner of a hot pot restaurant in Wuhou District, Chengdu, said: "Some small businesses have lost money, and some merchants have received the so -called negotiation telephone. The price talks about 15,000 from 30,000."
Shanghai Wancui Tang Company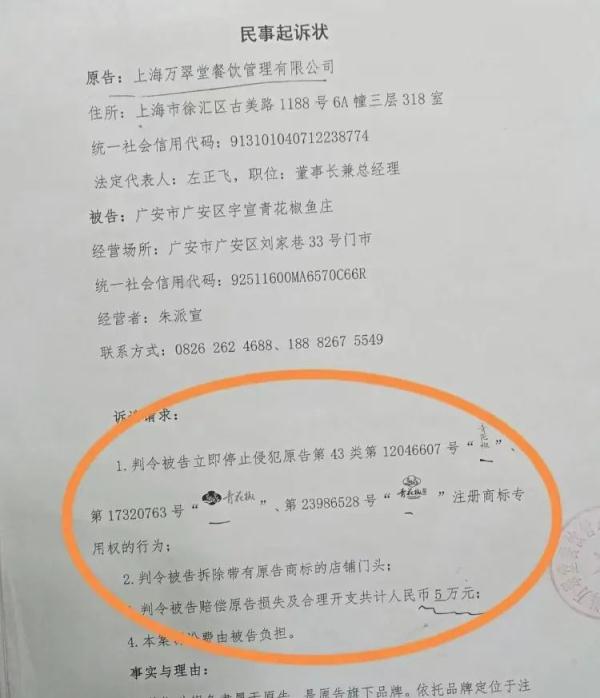 What kind of company is it?
Tianyancha shows that Shanghai Wancuitang Catering Management Co., Ltd. is located in Xuhui District, Shanghai. It was established on June 24, 2013. Capital of more than 560,000 yuan.
The company has a "green peppercorns casserole fish" brand. There are dozens of trademarks such as "green pepper" and "green peppercorns". The company involves dozens of cases related to trademark rights disputes, which are distributed in many places across the country in Shanghai, Jiangsu, Shandong and other countries. Since September this year, the company has densely sued restaurants in Sichuan Province.
Suspected of malicious prosecution
Multiple dining companies in Sichuan, joint groups, groups
"The company's behavior may be suspected of malicious prosecution." Wang Jianping, a professor at the School of Law School of Sichuan University, said that in this case, Shanghai Wancui Hall may use legal loopholes to obtain trademark registration. Later, it was widely suspected of a malicious prosecution to merchants with the words "blue pepper" in various places.
In response to the distress of "infringement", Mr. Wu has been united with 18 prosecuted shopkeepers and formed the rights protection group to prepare for rights: "This is obviously malicious. Legal weapons to protect yourself. "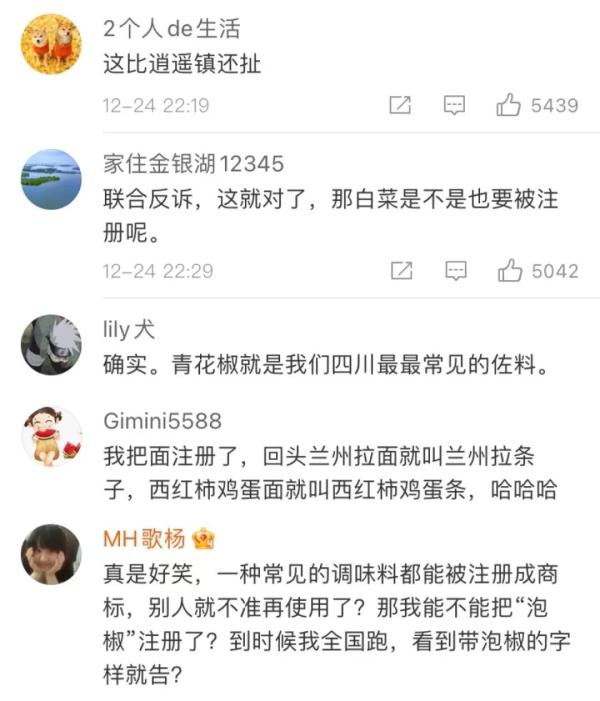 "The pot comes from the sky", netizens have spoiled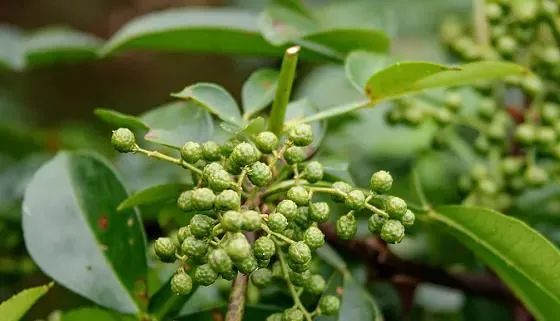 Use "green pepper"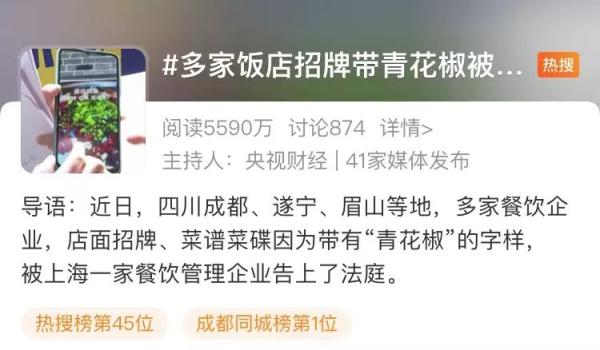 Is there a court ticket?
Netizens vomit this collective
From Hu spicy soup, meat crickets, to green peppercorns
"Trademark dispute" that seems to have met
Like the same hunting routine
Use a large number of small and medium businesses as prey
Strong words seize, reverse black and white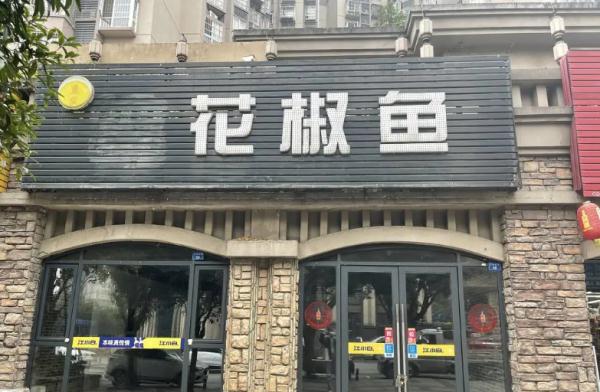 It looks like to protect rights in accordance with the law
But the meaning of fishing into porcelain is clear
Can touch one by one, can make a stroke one by one
Can be called without Benba,
Will there be red pepper and purple and garlic in the future?
Is there at the end of such a thing?
I'm afraid it's not just the people of Sichuan don't agree
Shanghai News Broadcasting Integrity From Sichuan Guan News, Sichuan News Network, etc.
Source: Shanghai News Radio