Haochen 3D combines creative design with actual process manufacturing, providing commonly used parameterized features such Commands can create and edit 3D models faster and easier.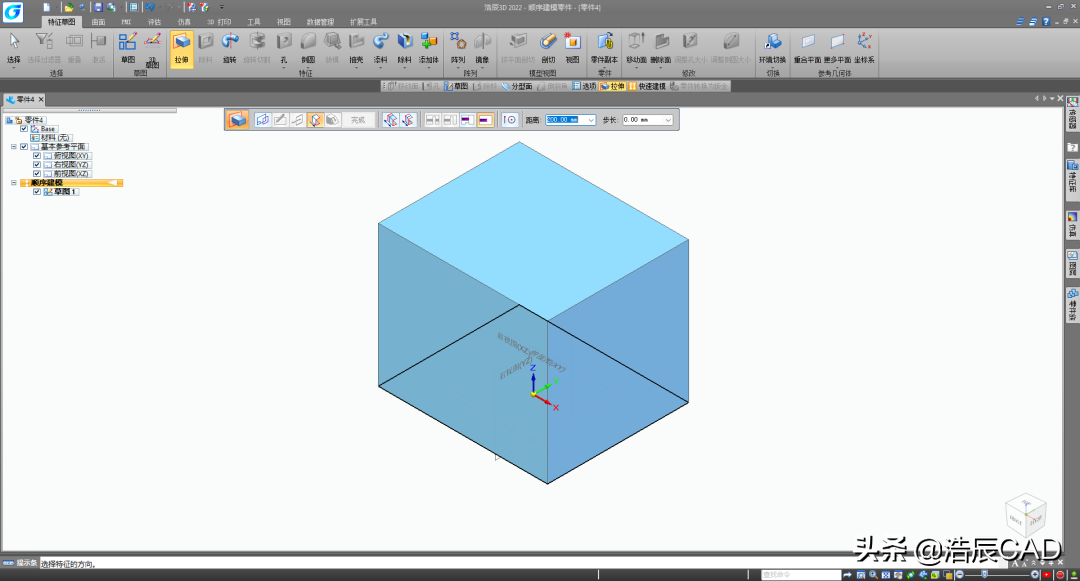 Today, I will take plastic bench as an example to teach you how to flexibly use the parameterized feature command of Haochen 3D to quickly complete the creation and attribute definition of the model.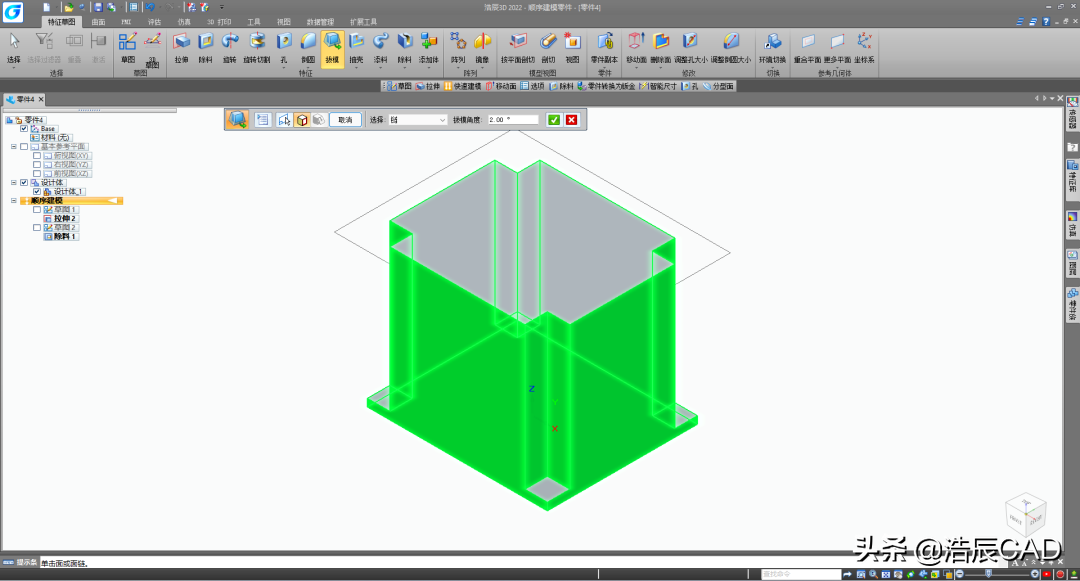 Step 1 Quickly create a bench model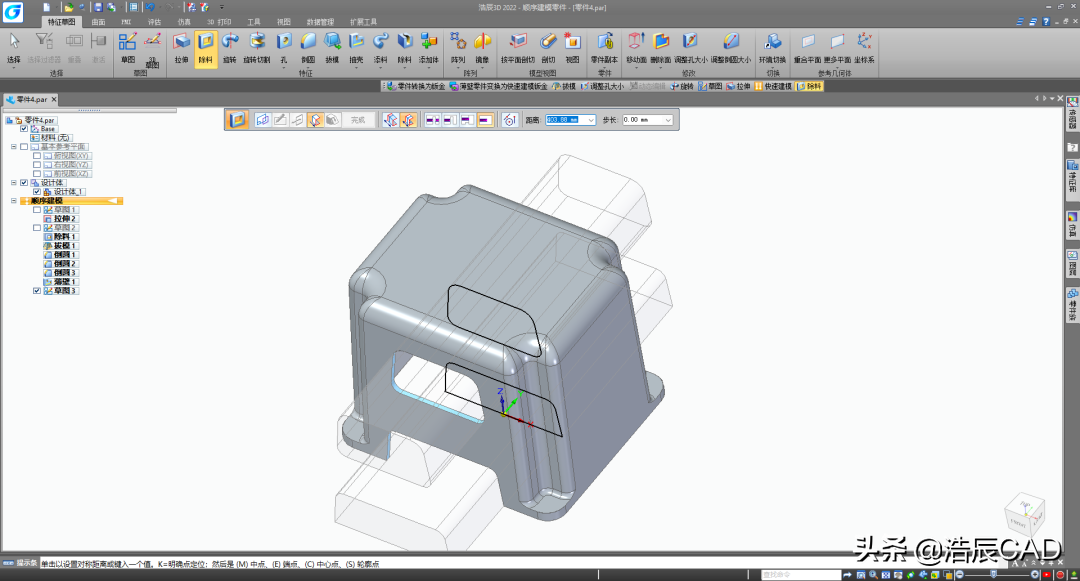 Open Haochen 3D, create a new part of the parts, and draw a 240*200*200 cube on the benchmark surface.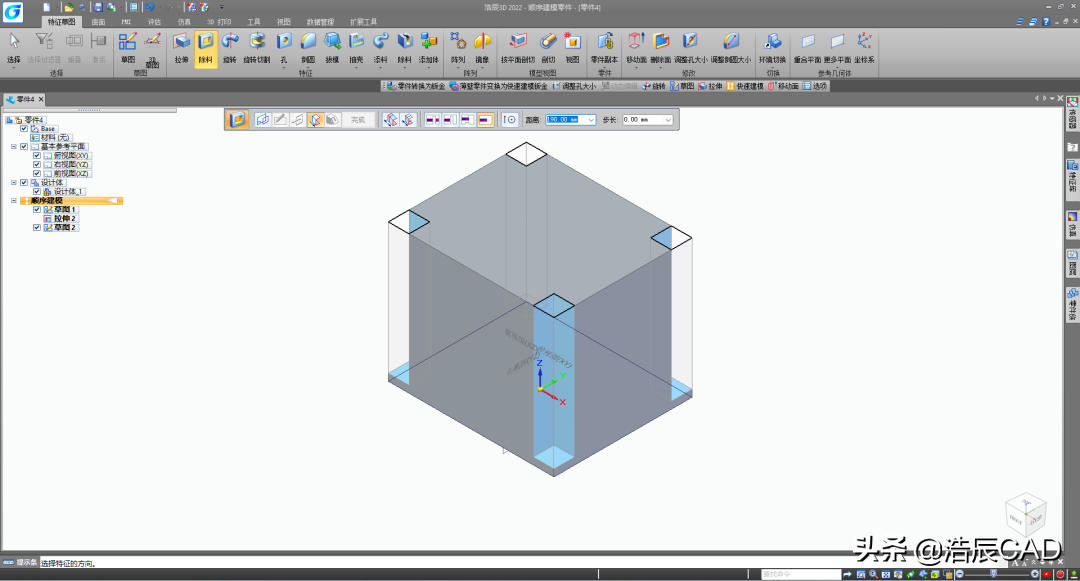 Draw 1 30*30 rectangle on the four corners of the physical surface. Pay attention to the [mirror] function flexibly. After turning off the sketch, click the [Feed] function, the distance is 190mm.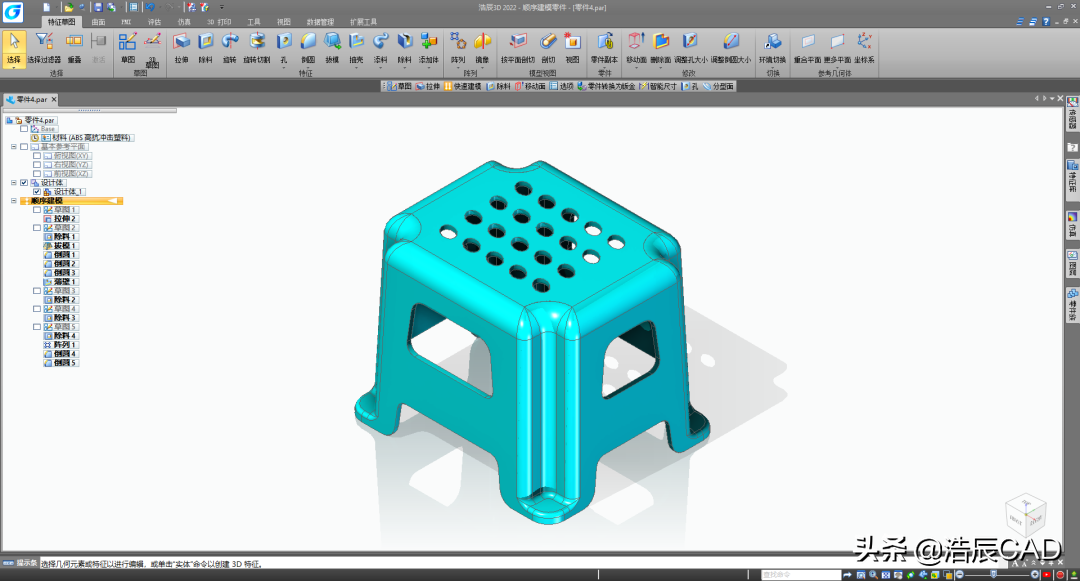 Step 2 Modeling and inverted circle
Click the [Model] function, set the angle of 2 °, and the direction is outward, so that the model can have a deserter angle.
After the end of [Modeling], the [inverted circle] is performed. The related parameters are four corners radius 10mm, the top surface radius is 20mm, and the leg radius radius is 5mm.
Step 3 Pumping Shell Treatment
The plastic bench is a thick shell instead of a real block. Haochen 3D provides [shell] function to quickly pump the shell. Click the [shell] function, the thickness of 5mm.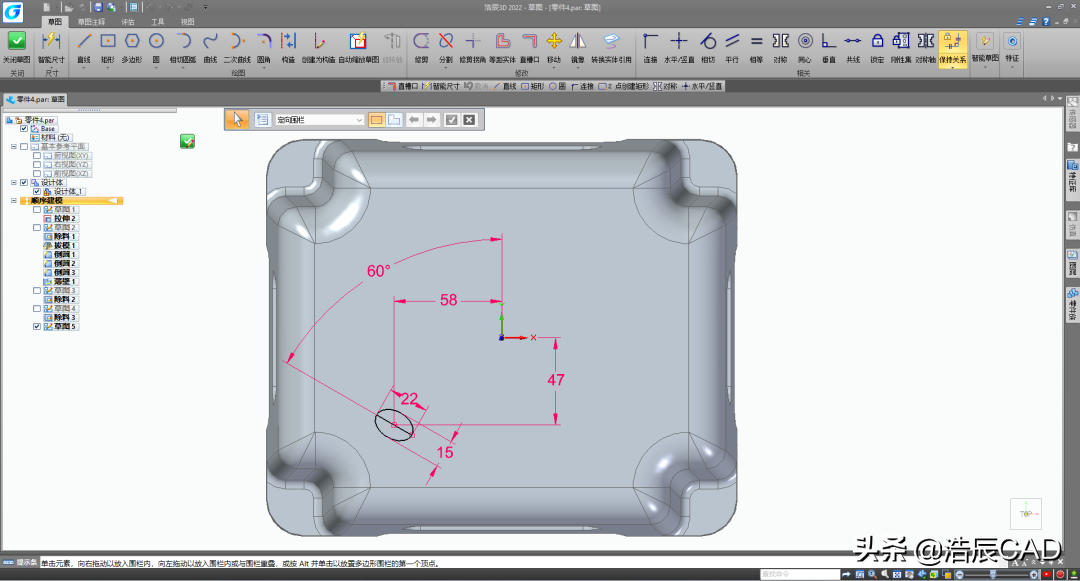 Step 4 details
For hollow treatment of the four sides of the stool and the hole details of the stool surface, the [ingredients] function can be used. Draw a sketch in the forefront of the foresee, see the specific parameters below. After turning off the sketch, click the [Material removal] function, and select [symmetrical extension].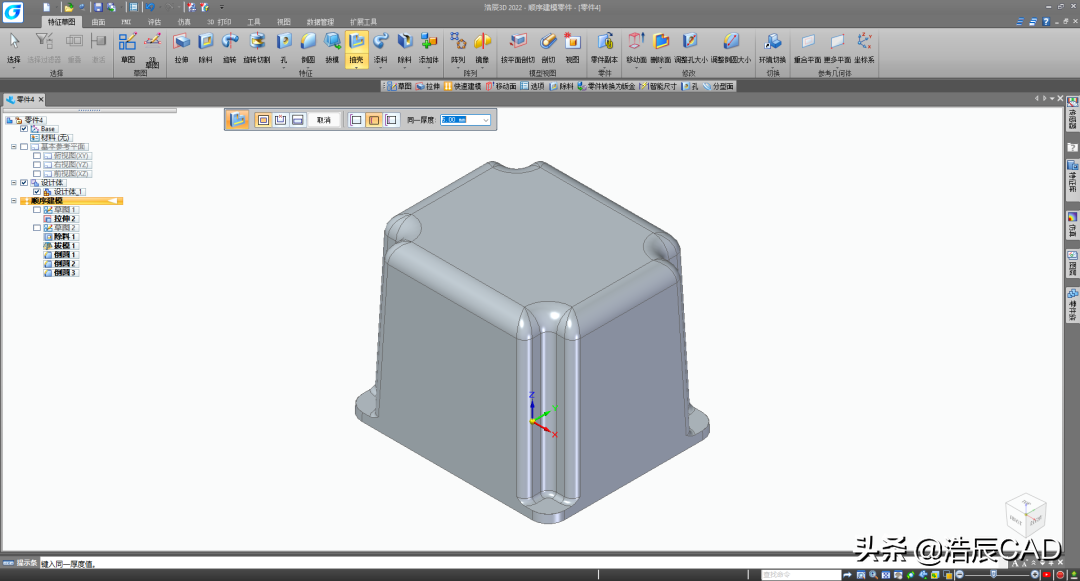 Draw the sketch on the right to the benchmark, the parameters are as follows, and [ingredients] and [symmetrical extension] are performed.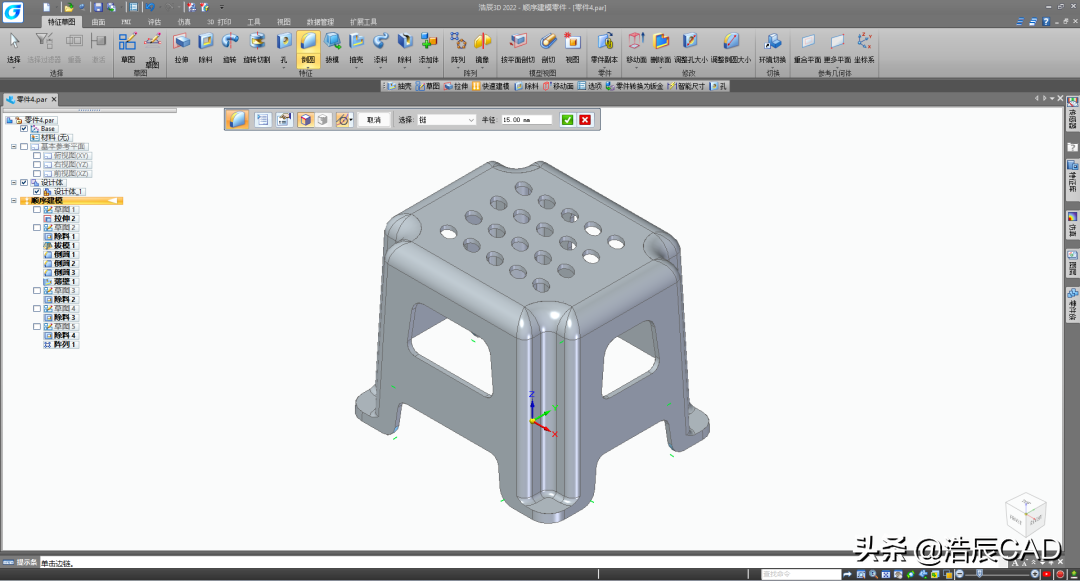 Draw a sketch on the top surface of the entity, the parameters are as follows, and a series of operations such as [ingredients], [array] (5*4), [inverted] (15mm) can be performed to complete the basic modeling of the plastic bench.
Step 5 Add attribute materials and colors
After completing the basic modeling, don't forget to add attribute materials, color, etc. This can make the model design closer to actual process and manufacturing needs, and to bring better visual interactive experience to users.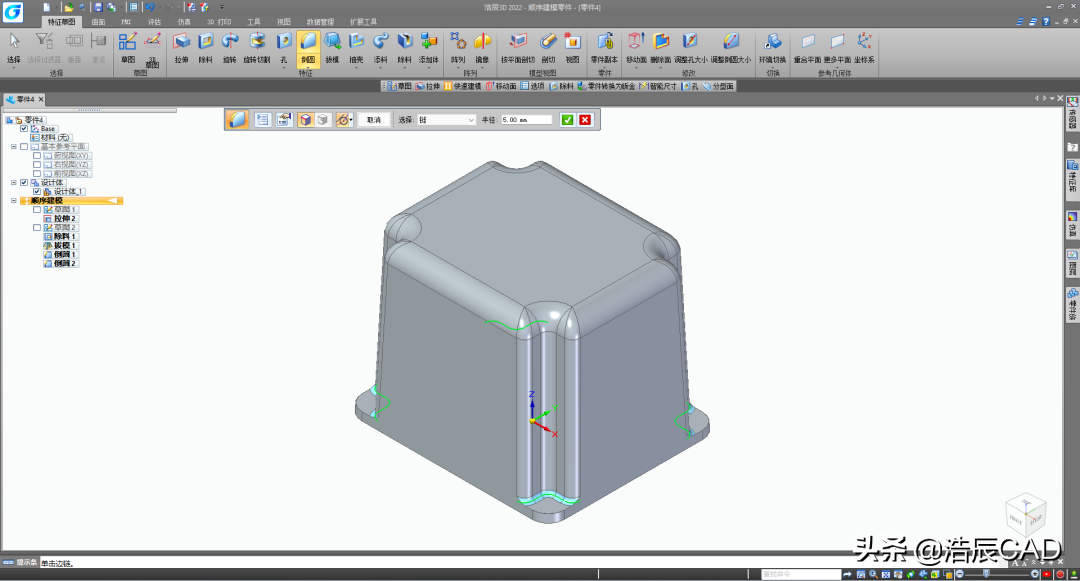 The above is the operation tutorial of using Haochen 3D to draw a plastic bench. Did you learn? In the actual 3D design process, the flexible use of characteristic operations such as [sketching], [stretching], [array], and [inverted] can help designers' efforts to do more with less and quickly complete creative design.