The underground parking space in the community is too narrow
After normal parking
The door can only open one seam
After the owner will not negotiate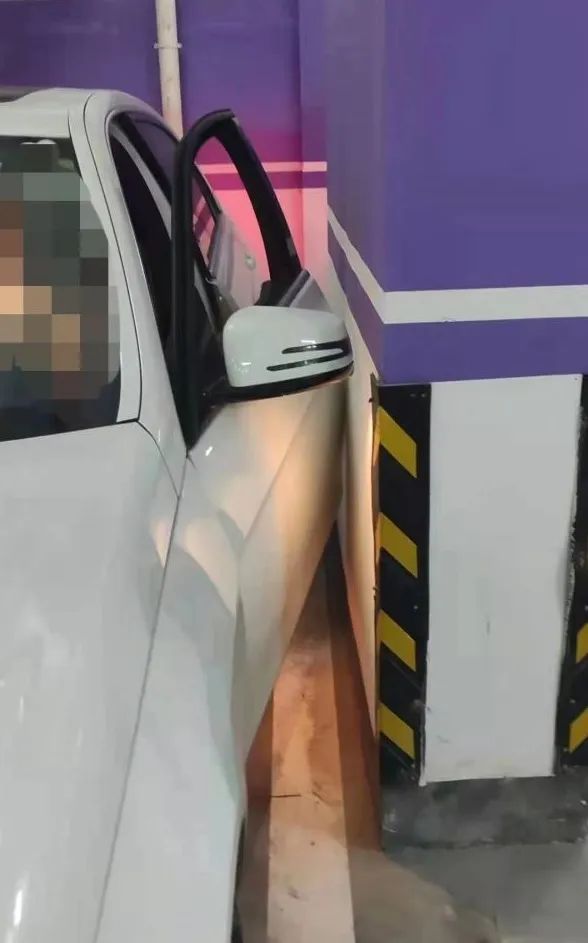 Recently, the court sentenced
↓↓↓
The picture shows the parking space is too narrow, and it is difficult for the driver to get off the car (evidence map). Correspondent Dong Xingxing Photo
In 2019, Aunt Wang bought a new house and an underground parking space in Xinzhouyang Lang. The two parties agreed that the developer should transfer the underground parking space at the end of 2020. In 2021, Aunt Wang received a notice of delivery of the parking space.
Aunt Wang introduced that when the contract was signed, the parking space was not completed, and the owner could not check the actual situation of the parking space on the spot, and there was no information such as the length and width of the parking space on the drawing. The contract for purchasing parking spaces is also very simple, without specifying the specific information of the parking space.
"It will not be said that most of the parking spaces in the entire community are normal. Only my parking space is too narrow." In 2021, after the developer delivered the parking space, Aunt Wang found that there were walls on both sides of the parking space and vehicles. After parking normally, the door can only open a seam, and it is difficult for the driver to come out of the car.
Regulations: The width of the minimum parking space of a small car is 2.4 meters
After negotiating with the real estate company's refund for many times, in July 2021, Aunt Wang complained to the court to the court, requiring the refund to repay the parking space transfer model and compensate for the loss.
After the judge accepted the case, he conducted a inspection at the scene and found that both sides of the parking spaces purchased by Aunt Wang were covered with walls. The depth was 5.3 meters, the width of the white line was 2.25 meters, and the width in the white line was 1.95 meters. After the on -site test, it was difficult for people to come out of the car after the ordinary car was parked into the parking space.
According to the provisions of the "Garage Building Design Specifications" issued by the Ministry of Housing and Urban -Rural Development: Under vertical parking, the width of the minimum parking space of small cars is 2.4 meters. The court believes that the parking spaces delivered by the real estate company obviously do not meet the minimum standards stipulated by the state, and there are obvious defects, and the owner cannot use it normally.
A few days ago, after mediation by the court, the developer refunded the parking fee at one time, and Aunt Wang withdrew.
How about parking spaces in your community?
Review
Produced by the Yangtze River Daily: Reporter Geng Shanshan Correspondent Dong Xingxing Dou Qiantian
Source: Changjiang Daily
The door can only open one seam